Apple's iOS 12 is now installed on 72% of iPhones, iPads and iPods that are four years old or newer – and 70% of all iDevices, according to data from the company's App Support webpage.
iOS 12 has seen some of the fastest user adoption in recent years, and surpassed iOS 11 just two and a half weeks of its release in mid-September. At that time (Oct. 5), iOS 12 had already been installed on 47% of iDevices.
iOS 11 is now on only 21% of all iDevices.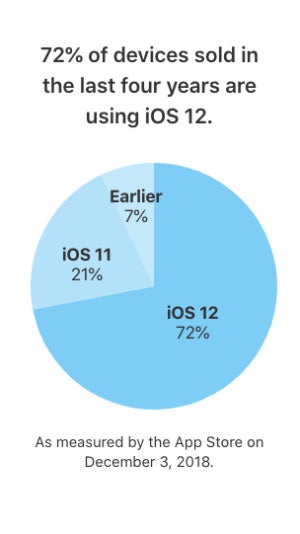 Before iOS 12's launch on Sept. 17, iOS 11 was running on 85% of iPhones and iPads, according to Apple's developer support page.
Refer Here for Original Post and Source https://www.computerworld.com/article/3234507/mobile-wireless/ios-12-is-now-installed-on-nearly-3-out-of-4-idevices.html#tk.rss_all